Product matching is a result of many factors, including provider marketing criteria. Matches or products included are from providers who compensate us. This compensation may impact which products appear and how they appear.
Compare Business Credit Cards in March 2023
Top Recommended
Regular APR: 18.74% - 26.74% Variable
Annual Fee: $695
The Business Platinum Card® from American Express
The Business Platinum Card® from American Express is a great business card for those looking to earn travel rewards and get a fantastic welcome offer.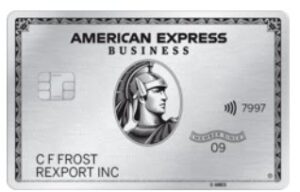 Earn 120,000 Membership Rewards® points after you spend $15,000 on eligible purchases with your Card within the first 3 months of Card Membership.
Get 5X Membership Rewards® points on flights and prepaid hotels on amextravel.com, and 1X points for each dollar you spend on eligible purchases.
Expand Details
Earn 1.5X points (that's an extra half point per dollar) on eligible purchases at US construction material & hardware suppliers, electronic goods retailers and software & cloud system providers, and shipping providers, as well as on purchases of $5,000 or more everywhere else, on up to $2 million of these purchases per calendar year.
Top Recommended
Regular APR: 25.24% (Variable)
Annual Fee: $0 intro for first year; $95 after that
Capital One Spark Miles for Business
If you are a business owner that travels a lot, this is a great, no-nonsense business card that allows you to earn double points that are easily redeemable.
Your business needs credit to grow. You also need every perk you can get as an entrepreneur. Are you sure your current credit cards have enough spending limits on your business purchases?
Not all credit cards work the same and you may be paying higher interest rates or foreign transaction fees without realizing it. Small businesses can't afford to throw any money down the drain and need all the bonus points they can get.
It's time to get smart and explore all your credit card offers. Learn what business credit card works best for your needs with this essential guide for business owners.  Here are small business credit cards that offer 0% APR introductory financing. These offers aren't always as generous as personal credit cards, but when used well, they are low cost way to meet your business needs.
What is the Best Business Credit Card For You?
Credit cards aren't made alike, and neither are businesses. Some credit cards may be better suited for your goals than others. An entrepreneur with a sole proprietorship has very different needs than a small business or enterprise-level company.
Chase Ink Business Preferred Credit Card
First up on the list is the Ink Business Preferred Credit Card from Chase Bank. This card offers substantial rewards, making it an excellent choice for small businesses to make eligible purchases so they can scale quickly. After your first purchase of $5,000 or more, you'll get a signup bonus of 80,000 rewards points! That's a cash bonus of $1,000 extra for your business needs.  You can always redeem your points through Chase's "Ultimate Rewards Program" at any time.
Chase's Ultimate Rewards Program has a lot of rewards to choose from. Browse around to discover the top rewards card for business owners. You can book business trips, redeem your points for cash or bonus miles to use for hotel stays, or use your points to buy business supplies on Amazon.
This credit card is ideal for business owners who travel frequently since your bonuses are worth 25% more if you redeem them for travel perks.
You can also issue company employee cards as a membership reward at no extra cost. This is something to consider if you want to scale and grow your staff.
Chase Bank has two other business credit cards that are worth noting: The Ink Business Cash Credit Card and Ink Business Unlimited Credit Card. Both cards come with a $500 introduction bonus after your first $3,000 spent.
Best for: Business users looking for an enticing sign-up bonus and solid travel rewards.
Rewards: Earn three points per $1 spent on select purchases up to $150,000 per year (you'll get one point per $1 spent on all other purchases). Triple-points purchase categories include travel, shipping costs, ads on search engines and social media, and telecommunication services such as internet and cell service.
Other perks: Points are worth 25% more when redeemed by booking travel through Chase Ultimate Rewards. Cardholders can also get a 20,000-point bonus for referring other business owners to sign up for the card.
Annual fee: $95
Bonus:  The Ink Business Preferred card offers 80,000 bonus points to cardholders who spend $5,000 in the first three months after opening their account. That's a value of $800 when redeemed for statement credits, or $1,000 or more when redeemed for travel purchases.
Discover it Business Card
The Discover card has some raving fans on the consumer side, and it recently re-entered the small business market. It offers small business owners 12 months of 0% intro APR financing on new purchases, which is a great way to smooth out your finances as you get started. You could also receive 1.5% cash back on all your purchases, plus a cashback match at the end of your account's first year. This means that you could eventually earn a total of 3% cash back on all of your purchases during the first year. There's no annual fee for this card.
Business Cards from American Express
American Express is often the first financial institution entrepreneurs think of when they need business credit. As expected, American Express credit cards come with some great rewards for business owners.
Let's start with the Business Platinum Card from American Express. This is the ultimate business travel card since cardholders score 5 times the travel points than with other cards. Simply redeem your points through the American Express travel website.
Enjoy a huge welcome offer after spending your first $10,000. You can also earn up to 75,000 bonus points when you spend an additional $1,000 during your first year
American Express has a partnership with Dell, which allows small business owners to earn $200 in credit from Dell purchases. This is something to consider if you need a new business computer.
Another popular American Express business card to consider is the American Express Business Gold Card. This card is ideal for small businesses that aren't quite ready for the platinum card but need enough credit and rewards to maintain steady growth.
The gold card comes with a 35,000 introductory points bonus. Cardholders receive their bonuses after spending $5,000 on qualifying purchases within the first three months of issuance. The annual fee is nearly half the cost of the Platinum Card, and you also get 25% back in points for flights.
Cardholders can earn 4X points on business expenses, like company lunches and office supply store purchases. This card also has flexible payment options for small businesses and growing startups.
Blue Business Plus Credit Card from American Express
This card offers 15 months of interest free financing on both new purchases and balance transfers to help you jump start your new business. It also offers 2X points on up to $50,000 a year in purchases, and one point per dollar spent after that. Best of all, there's no annual fee for this card.
Best for: Cost-conscious small business owners who'd appreciate a 0% introductory rate and no annual fees.
Rewards: Cardholders earn twice the points on all spending up to $50,000 per year, with no restriction on rewards earning by purchase category. After the first $50,000 charged, cardholders earn one point for every $1 spent.
Other perks: The Blue Business Plus has a feature that allows cardholders to spend beyond their credit limit, extended based on the account holder's card use, credit history and other factors.
Annual fee: $0
Bonus: There is no points or cash back sign up bonus for opening this card. New cardholders can benefit from a 0% APR on new purchases and balance transfers for the first 15 months their account is open.
American Express Plum Card
This is a unique small business card that's ideal for short-term business financing. Every time you receive your statement, you'll have two options. First, you can pay the entire balance within 10 days and get 1.5% cash back. Alternatively, you can take up to 60 days to pay off your balance, with no interest charges. There's a $250 annual fee for this card, but it's waived the first year.
Spark Cash Credit Card from Capital One
Best for: Business owners who want straightforward, unlimited cash back with no spending categories.
Rewards: The Spark Cash card gives cardholders 2% cash back on all purchases, with no spending limits or purchase category restrictions. It doesn't have a minimum to redeem cash back rewards, so cardholders can claim them at any time.
Other perks: Business owners can get employee cards for their account at no charge, and can provide emergency card replacement anywhere in the world. Capital One provides fraud alerts and coverage to protect your business, as well as an auto rental damage waiver.
Annual fee: $0 the first year; $95 thereafter
Bonus: Get a $500 cash bonus by spending $4,500 in the first three months after opening the account.
Spark Classic Credit Card from Capital One
Best for: A business owner who has fair or average credit but still wants a solid credit card — and rewards.
Rewards: Earn 1% cash back on all purchases, with no spending limits or categories. Rewards can also be redeemed at any time with no minimums to meet.
Other perks: The Spark Classic card is advertised for business owners with average credit, making it a more accessible option if your credit score falls a little below the range of good credit (typically around 670 or higher). It also offers free additional cards for employee use, as well as fraud coverage and alerts.
Annual fee: $0
Bonus: None.
Capital One Spark Cash
Here's a simple small business card with fantastic cash back rates. This card allows your business to earn unlimited cash back on all purchases. No checking categories, you get cash back on everything. You could also earn a cash bonus for spending a certain amount within the dedicated timeframe of account opening. There's a $95 annual fee for this card that's waived the first year.
The Business Gold Card from American Express
This card offers 4X points on purchases within two categories that you select, on up to $150,000 spent each year. You also get 25% of your points back after booking a flight using pay with points. Points can be transferred to airline and hotel partners as well. There's a $295 annual fee for this card, and new applicants could receive 35,000 bonus points after spending $5,000 within three months of account opening.
The Business Platinum Card from American Express
This card offers 4X points on purchases within two categories that you select, on up to $150,000 spent each year. You also get 25% of your points back after booking a flight using pay with points. Points can be transferred to airline and hotel partners as well. There's a $295 annual fee for this card, and new applicants could receive 35,000 bonus points after spending $5,000 within three months of account opening.
United MileagePlus Club Business Card from Chase
This card offers a whole range of benefits when traveling with United. This includes two free checked bags, priority check-in, security, boarding, and baggage delivery. You also get a United Club airport lounge membership. When used for spending, you could receive 1.5 miles per dollar spent on most purchases, and double miles on all United purchases. You'll also enjoy Hertz Gold Plus Rewards President's Circle Elite Status. This card offers new applicants a $100 statement credit, which helps to offset it's $450 annual fee.
Discover the Perfect Business Credit Card for Your Goals
The American Express Blue Business Plus Card stands out for its low costs, thanks to no annual fee and a 0% introductory APR for 15 months.
If you're seeking a more rewarding business credit card, however, the Chase Ink Business Preferred card pulls ahead. It offers one of the largest sign-up bonuses we saw on business credit cards and generates three times the rewards on common business expenses year-round. Plus, it does all this while keeping its annual fee below $100.
Don't settle for a credit card that doesn't reward your business purchases. Apply for a business credit card that gives you the room and cash for the business to grow. Follow this guide to make the right choice for your needs and you could get some bonus cash.
Great ideas need resources to grow. Do you have enough resources to build your business? Start comparing business services now, so you can build your dreams for less.
Frequently Asked Questions (FAQ)
How to get a business credit card?
There are plenty of cards to apply for, but make sure you narrow your research to business credit cards only.
So, why not go for a personal credit card?
There are a few differences between personal and business credit cards. Most notably, business spending limits are generally higher than personal credit lines. This is vital because you need the capacity to place large orders with vendors.
The second difference is rewards and perks. Business credit card rewards programs are far more appealing to entrepreneurs.
Here are the best business rewards to look for:
Travel rewards
No calendar year credit card fees
Cashback rewards
Cashback bonuses
Gas Station rewards
Hotel and lodging points
Office Supply Store rewards
Substantial credit limit
How do I apply for a business credit card?
Your next step is to apply for a business card. If you want to make the approval process as easy as possible, gather all your required documents before reaching out to a credit card issuer.
Have the following items handy as you apply:
The legal name of your company
All of your company's contact information
Tax identification number (EIN)
Social Security Number (for a sole proprietorship)
Your company's industry
Yearly revenue and profit/ cash flow
Annual company expenses
You'll also need to present the credit card issuers with your personal financial information. Perform a personal and business credit score check before applying. Financial institutions will look at this information to gauge if you're worth the financial risk.
One problem new entrepreneurs run into is a lack of credit score or credit history. If you have zero credit history, start building your personal and business credit now. This can help you get approved for a business credit card faster.
New or aspiring business owners should look into the Capital One® Spark® Classic for Business. This card is excellent for building a credit score since only "fair credit" is required for an account opening.
What should you look for in a business credit card?
There are several reasons why a small business owner may want a credit card, which dictate what you'll look for. If you're primarily looking for a means of finance, then you'll want to consider cards that offer an interest free introductory financing offer for new purchases. But if your goal is to earn rewards, go for a card that features the most valuable points, miles, or cash back for the kind of spending you'll do. Finally, business travelers should look for perks and benefits, such as airport business lounge access.
How do small business credit cards differ from consumer cards?
Most credit card issuers offer cards specifically designed for small business users. But the differences between these cards and consumer cards aren't as great as you might think. For example, you apply for a small business credit card with your personal credit history and credit score. And when you're opening an account, you're personally guaranteeing repayment of your purchases.
Small business credit cards are exempt from many of the consumer protection provisions of the CARD Act of 2009, but most major card issuers have chosen to voluntarily have their small business cards comply with the law. Beyond that, a small business credit card can offer rewards on the kinds of purchases that small businesses are more likely to make, such as office supplies and telecommunications services. A small business card could also come with expense tracking and reporting features that you won't find on your personal cards.
Advertising Disclosure
We are an independent, advertising-supported comparison service. The offers that appear on this site are from companies from which we receive compensation. This compensation may impact how and where products appear on this site, including for example, the order in which they may appear within listing categories. The scoring is determined at our own discretion and should not be considered an endorsement (express or implied). The information and vendors which appear on this site is subject to change at any time. To the extent that ratings appear on this site, such rating is determined by our subjective opinion and based on a methodology that aggregates a number of factors, including but not limited to, our analysis of brand market share and reputation, each brand's consumer volume, compensation paid to us, and general consumer interest.
Quicken Compare Score
The Quicken Compare score is based on multiple factors such as the most popular choice, consumer feedback and our internal evaluation. The score is unbiased and its goal is to provide you with a relative recommendation of offers as you compare the brands listed in our marketplaces. We do receive monetary compensation if you utilize the brands listed which allows us to keep this service free.
Editorial Note
Quicken Compare, a LMB Opco, LLC company, is compensated by third-party advertisers, however, any opinions, analyses, reviews or recommendations expressed in editorial content are of the author alone and have not been reviewed, approved, or otherwise endorsed by the advertiser. We make every effort to provide up-to-date information, however we do not guarantee the accuracy of the information presented. Consumers should verify any terms and conditions with the institution providing the products. Articles may contain some sponsored content, content about affiliated entities or content about clients in the network. QuickenCompare does not include all lenders or offers available in the marketplace. The content displayed on QuickenCompare or in this video does not provide legal, financial, accounting or tax advice.