Before you started planning your wedding, you might've vowed to keep a tight rein on your budget.
But as engaged duos will discover, spending a little more here or there — on flowers, food, drinks, favors, and more — can quickly unravel your spending plan, says San Francisco-based wedding planner Jamie Chang of Passport to Joy, an online wedding planning course for couples.
The average cost of a wedding in the United States costs couples and their families a whopping $29,200, according to The Knot's 2019 Global Wedding Report.
So with some creativity, every penny you save could do wonders for your bottom line. "Those extra little savings can also allow you to spend more in an area you really care about or be able to get something you didn't think you could afford," says Chang.
From flowers and accessories to transportation and food, here are 12 strategic ways to save on your big day.
How To Save On Wedding Photography
In the age of social media and digital photography, it's never been easier — or more tempting — to have a high-quality, professional photoshoot for your wedding. And the imagery is one of those details that Chang doesn't see many couples skipping.
Ask for an associate or an intern
Hiring a talented photographer with dozens of positive reviews can be costly. To save money, try asking the studio if an associate or intern photographer can take some of your photos, says Chang. For example, you could hire your top pick for the group shots but choose someone with less experience to shoot the ceremony or getting-ready images.
"Because they're trained to shoot in the style of photography you like, the photos are likely to come out how you want," she says. "However, since they're not as experienced, the costs will be lower, and that can really help your budget."
How To Save On Wedding Flowers
Flowers often tie a theme together, but they can be a big-budget item. Fortunately, there are ways to cut corners without sacrificing style or quality, according to Joan Wyndrum, the co-founder of Blooms by the Box, based in Watchung, New Jersey.
Think about size, versatility, variety, and seasonality
Wyndrum suggests starting with in-season blooms, based on your wedding dates, since it always costs more to import varieties that aren't readily available.
If you must have your most beloved-but-pricey bloom, choose a few stems and place them where people are sure to see them: by the cake or on your newlywed table. Then, be savvy about centerpieces.
"If you need 10 centerpieces, DIY four large size[s], three medium sizes, three small sizes mixed with candles," Wyndrum says. "This will not only save you money, but it will also create visual interest throughout the reception."
Chrisan Klak of Raleigh, North Carolina, saved money on flowers by sourcing them right before the wedding and from a non-traditional spot: the grocery store.
"I bought a bucket of local flowers from a local flower farm, supplemented it with white tulips and roses from Whole Foods, and made our own bouquets, decor, and boutonnières with them," says Klak. "I also reused bouquets for centerpieces!"
How To Save On Wedding Party Expenses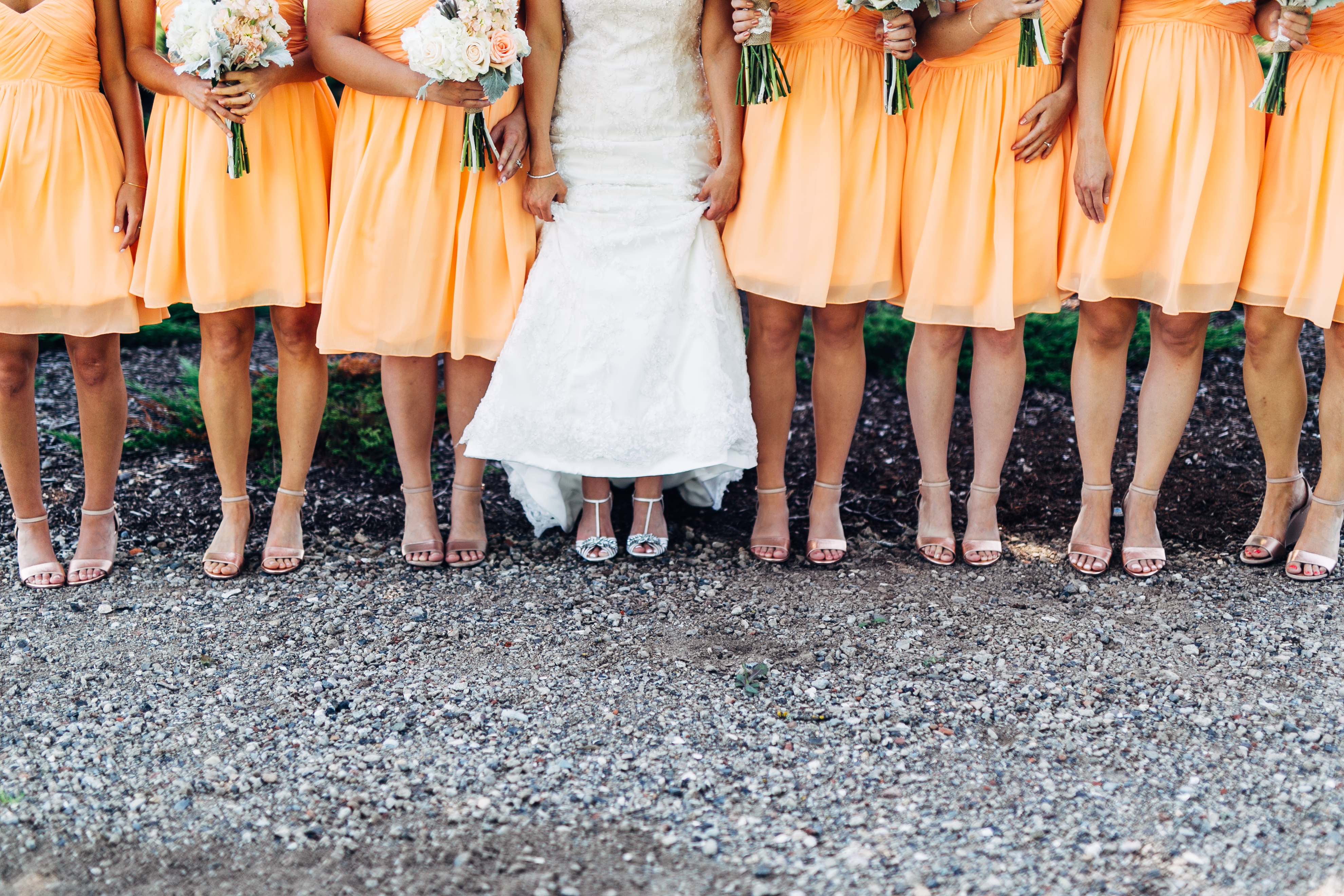 Considering your best friends and close family members have gone above and beyond to help create a memorable wedding for you, it's customary to thank them for their time and effort. Traditionally, you might give them some sort of a gift — like a necklace for the bridesmaids or a bowtie for the groomsmen.
Choose an experience over a wrapped gift
Rather than buying pricey items for 20 or so people, Chang says you can save cash and still express gratitude by giving them an experience. After all, you can't put a price on quality time with those who mean the most to you.
"You can cook a meal and have a grown-up slumber party. Or take them out to a movie. Or treat them to getting their nails done, which can double for your wedding, as well," she says. "Doing an activity and spending time together in a fun way can cost less and mean more to both them and you."
How To Save On the Wedding Dress
Sure, you might only wear your wedding dress once. But for many women, the first vision they have of their wedding is their dress, so it isn't an item most are willing to scrimp on.
Strategize your purchase during sale season — and shop early
If you want to avoid spending hundreds — or thousands — on this gown, wedding expert and photographer Keith Phillips suggests being strategic about when you shop, since most bridal salons will hold a handful of sales every year. If you have a longer engagement, you can coordinate your purchase with when you will receive the most bang for your buck.
You can also set alerts for trunk shows and keep an eye out for floor samples that fit your aesthetic, which might help you get a discount on the dress, according to Julia Pham, a wealth advisor at Halbert Hargrove in Long Beach, California. And when in doubt, shop early! It's recommended to order your dress at least nine months in advance to avoid extra fees on rushed shipping or rushed alterations, Pham adds.
How To Save On Wedding Day Accessories
In addition to the gown that will wow the wedding guests, many brides are particular about the accessories they sport on their big day, too.
Honor someone by asking to borrow an heirloom
From tiaras to necklaces and bracelets, these seem like small additions — but they can add up to a hefty expense.
That is, if you buy them. On the other hand, if you think about pieces that you really love, perhaps you have a friend or family member who has something similar in their jewelry case. They might be more than happy to allow you to borrow it for your special occasion.
Chang says borrowing an accessory can be a nice way to honor the person who is lending it. It also gives the piece another life, and it's an eco-and-budget-friendly way to save on your wedding costs.
How To Save On Wedding Food
Feeding dozens or hundreds of guests can be a large part of a wedding budget, according to WeddingWire. Certain styles of dining are cheaper than others, but most duos don't want to serve anything that's lackluster, tasteless, or boring.
Base your wedding menu on what you have accessible — and go lighter
One way to serve a delicious meal on a budget is to choose local, seasonal ingredients, according to Heather Jones, a wedding planner for Wente Vineyards in Livermore, California. For example, winter couples can serve comfort foods like soups or mashed potatoes that are delicious, filling, and less expensive.
Although it might be tempting to go extravagant on everything, it's fine to go lighter on some parts of your wedding fare. "Don't feel pressured to go too heavy on the cocktail hour, especially if you have a heavy dinner to follow," Jones says. "A small selection of hors d'oeuvres works well."
If you're having a more casual wedding, serving a small DIY spread is more than reasonable and can save you money. In fact, that's what Megan Eklund Stowell did when she wed her partner six years ago. They served up appetizers, burgers, baked beans, and potato salad to their guests.
How To Save On Wedding Booze
It's your wedding, and you should get tipsy on what you like. Right? Actually, yes, since one good way to save on wedding costs is to be realistic about your drinking habits and preferences.
Choose what you like as a couple
If you and your soon-to-be-spouse prefer wine, focus your reception theme on vino. If you're into craft beer, ask a local brewery about discounts for various kegs. Perhaps you keep it simple with basic mixed drinks. If so, consider shopping wholesale for mixers and the strong stuff, and hiring a few bartenders to help.
The point is to create a fun time that is a reflection of the steps you're taking together toward your future. That doesn't have to mean an overpriced, expensive, all-you-can-drink bar, Jones says.
How To Save On Wedding Favors
Think back to the weddings you've attended — has there ever been a favor you were over-the-moon happy to receive? Probably not.
Skip 'em
So Chang reminds couples that wedding favors aren't necessary. Yep, it's that simple!
"They're an easy item to cut because they are one of the least appreciated items from a wedding," she says. "Cut favors from your budget completely, and you'll save not only money but time, too."
How To Save On Wedding Makeup and Hair
It's natural to want to look your best on your wedding day, but if you are looking to save, here's an option…
Do it yourself — or ask a pal
When business mentor Merel Kriegsman got married, she found an effective way to save on makeup and hair: doing it herself. She suggests that many women prefer the way they do their own hair and makeup every day. With the help of a few YouTube tutorials, you could even take it up a notch.
If you aren't comfortable doing your own hair and makeup, you might have a pal who is a wizard with makeup or styling. They might even be happy to help as their wedding gift to you.
If you don't have a friend who has these special skills, consider reaching out to the local beauty and hair school to find less experienced, and thus less expensive, professionals-in-training.
How To Save On Wedding Transportation
Depending on where your ceremony and reception are located, you may want to offer guests transportation between the two events. This can add up if you have a long guest list, but there are ways to save.
Negotiate with your hotel — and look into Uber Events
Start by chatting with the hotel you selected for a room block to see if they would offer free or discounted shuttle service. Often, this is cheaper than going through another company, says Jones.
Another option might be Uber Events if it's available in your area. It allows you to share a special code with guests and set a budget for how much you want to spend on each ride. It's a top recommendation from Stephanie Kotula, chief operating officer of Wilde Wealth Management Group in Scottsdale, Arizona.
"It not only encourages your guests to get home safe after a long night, but helps you control the cost," she says. "You only pay for the codes that are redeemed, plus a small administrative fee."
How To Save On Wedding Invites and Table Settings
Going the traditional paper invitation and table setting route may eat into your budget. Instead, consider this more eco-friendly option…
Go digital
These days, it's far more commonplace, and eco-friendly, for invites and save-the-dates to be electronic, according to Kotula. Costs can range from as little as 10 cents to a few dollars per invite, depending on how fancy you decide to go.
Since you have more space to play with online, you can include background information and all of the details for your wedding weekend. This can help long-distance guests feel more connected, says Kotula.
When it comes to seating arrangements at your reception, you can save money on place cards by going digital. Consider setting up the seating map on an iPad, so guests can scroll through to find their seats. It's easy, digital, and nearly free — if you already have the tablet.
How To Save On the Honeymoon
For couples who are trying to spend very little on their wedding, a honeymoon might feel like an unnecessary expense. But this time away as a twosome can provide a much-needed break after the wedding.
Consider an all-inclusive honeymoon and be flexible with dates
To save money on your honeymoon, consider an all-inclusive experience that covers everything: accommodations, food and drink, and other amenities.
"Most resorts offer a considerable discount for bundling everything together, and they may have honeymoon packages that can save you even more," says Jen Avey, the vice president of marketing for Destination Weddings Travel Group. "Better yet, these packages sometimes include extras such as spa services and tastings."
You can also cut down on expenses by being flexible with your honeymoon date. By traveling during an off-season time of year, rates can be dramatically lower.
"It's easier said than done, but sometimes postponing your honeymoon until later can be worth the wait," says Avey.
The Bottom Line: Saving On Your Wedding
At the end of the aisle, on the other side of your bed at home, and next to you throughout life, what matters is your partner. There are many ways you can save money on your wedding day so you can devote more money to your future. Do what feels right for you, let go of expectations, and enjoy your big day.