Social distancing has made it incredibly challenging to plan big life moments. Until most of the population becomes immune to the coronavirus, the threat of COVID-19 will continue to loom over any large gatherings. As a result, couples who were originally planning to get married in 2020 have been forced to rethink their wedding plans against an uncertain timeline.
While some have decided to postpone or cancel their plans, others have decided to formalize their commitment to each other now and wait until a later date to throw the big party. So, how do couples get married safely during a public health crisis? Although planning a traditional wedding during the coronavirus pandemic may seem like an impossible task, people are getting creative and finding different ways to hold an alternative wedding.
Whether you're thinking about having a courthouse wedding, a virtual wedding, or a socially distant wedding, check out these stories from couples who've gotten married during the pandemic:
1. Courthouse Weddings During the Coronavirus Pandemic
Even before the pandemic hit, some couples were opting for a courthouse wedding to minimize costs and keep their ceremony simple. Although many courthouses had to temporarily close during the COVID-19 outbreak, they're beginning to reopen or offering online services. Our courthouse wedding guide provides tips on what you should expect as well as how to plan this type of ceremony.
Miriam and Bryon Myers, based in Perth, Australia, are one couple who had originally planned to visit the courthouse on May 1. Afterward, they were supposed to get married in front of friends and family at a local park and then host an evening reception at a hotel.
"We were always going to get legally married in the courthouse on the morning of our wedding because our friend who was marrying us isn't a registered celebrant," Miriam says.
Due to the COVID-19 outbreak, however, Miriam and Bryon had to postpone their park ceremony and hotel reception until December. But the couple still wanted to get legally married on their original date, so they decided to go ahead with the courthouse wedding ceremony.
If you're in a similar position, a good question to ask yourself is whether it's more important for you to formalize your marriage now or follow through on the wedding you've been planning, even if you need to wait a while longer.
How much does a courthouse wedding cost?
One major perk to choosing a courthouse wedding is the amount of money you can save. These days, a typical ceremony and reception can cost you tens of thousands of dollars. For a minimal courthouse wedding, however, you'll only need to pay for your marriage license along with an additional fee for the ceremony.
The exact totals will vary depending on where you live. For example, a marriage license costs $91 in Los Angeles County, $70 in San Diego County, and $61 in Orange County, California, so it's best to check with your county clerk in advance.
If you're planning to hold a larger reception later, whether in person or via livestream, you could also consider purchasing a courthouse wedding dress.
"We'd already paid for the courthouse part of the wedding so that was factored into our original budget," Miriam says. "I brought another dress because I didn't want to wear my wedding dress."
According to Miriam, the second dress — which cost $80 — was her only additional expenditure for their revised wedding plan.
How to make a courthouse wedding special
Miriam admits that it was difficult to figure out how to make the occasion festive with all the social distancing guidelines in place.
"Thankfully our two witnesses, my sister and a friend, did a great job of making the room feel not quite so large and empty," she says.
Miriam's sisters did her hair and made a bridal bouquet using roses from a neighbor's garden and a repurposed gift bouquet. A close friend stepped in to double as the wedding photographer and a witness.
In the end, Miriam and Bryon say they'd recommend the courthouse wedding experience to other couples.
"We'd say just do it! We're both glad we went ahead with it, and even though it wasn't anything like our original plans, it was memorable for how surreal and unique it was," Miriam says. "It will be a great story for your kids and grandkids one day."
2. Virtual Weddings During the Coronavirus Pandemic
For many couples, one of the most important parts of having a wedding is getting married in front of family and friends. While the pandemic has made it unsafe for large groups to gather in person, technology offers a potential solution.
Miriam and Bryon used wedding technology company Joy to livestream their courthouse wedding to all their guests watching from home. In a poll of its users, Joy found that 64% of respondents would be open to having a livestreaming element to their wedding for some or all their guests.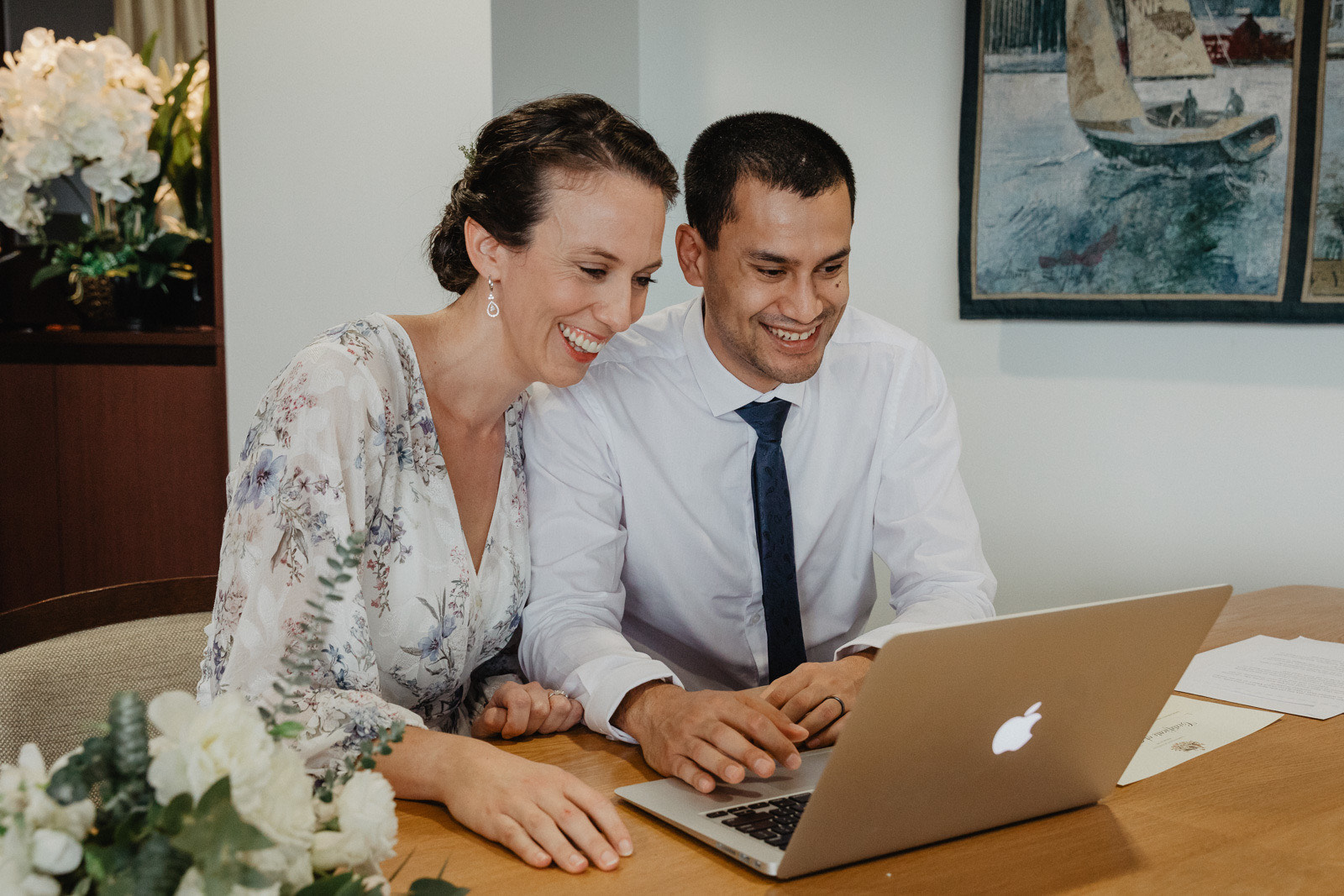 "You don't have to have expensive equipment to set up your livestream, you can keep things simple," says Vishal Joshi, co-founder and CEO of Joy. "To make the most out of your livestream, you'll need a smartphone, tablet, or laptop that has a camera and a strong internet connection to hold a virtual wedding. We recommend using the available device with the highest-quality camera."
Joshi says that you may also want to use a tripod to keep the visual feed steady. Additionally, a basic microphone could help improve the audio, especially if you're holding the ceremony outdoors. But he emphasizes that these are nice-to-haves, not essential.
Because marriage laws vary from state to state, it's a good idea to check the requirements in your state to confirm that a virtual ceremony would be legally binding. But Joshi notes that states like New York and California have already begun allowing couples to obtain marriage licenses online and hold virtual weddings, with more states likely to follow suit.
How much does a virtual wedding cost?
Beyond the usual marriage license and ceremony fees, it doesn't have to cost you anything to livestream your wedding, but you may decide to pay a little extra for certain features.
"The cost to livestream a wedding is completely up to the couple and their vision for their virtual wedding day," Joshi says.
Video chatting services like Apple's FaceTime and Google Hangouts are free, but FaceTime will cap you at 32 guests while Google Hangouts only allows up to 25 meeting participants. Joy is also free and offers other features that are specifically tailored to weddings, including a guest list manager and a wedding website template. However, the most popular option may be the video conferencing app Zoom.
The basic version of Zoom will limit your livestream to 40 minutes, with a maximum of 100 participants. If you'd like the ceremony to run longer than 40 minutes, it might be worthwhile to upgrade to the premium version for $14.99 per month so you can avoid cutting the party short.
How to make a virtual wedding special
Livestreaming your wedding allows friends and family from all over the world to participate in your big day and makes a wedding during the pandemic feel more special. To mark the occasion, you can also create digital wedding invitations and programs and even send wedding favors to your guests if your budget is roomy enough.
Miriam says that she and Bryon are glad they streamed their wedding, and now they have the recording as a keepsake. However, if you're planning to stream your wedding as well, don't forget to test out the technology before the ceremony to avoid any unfortunate glitches.
"We'd suggest testing the livestream prior to your big day to make sure that things like live chat/comments are enabled so people can comment and let you know they can hear you, etc.," Miriam says. "Unfortunately, we didn't test this prior to the day so didn't have this function turned on and spent a few minutes trying to work it out."
It's also important to manage your expectations and remember that a virtual wedding won't feel the same as an in-person ceremony.
"I think the most difficult part for me was knowing that my dad wouldn't be there to walk me down the aisle and missing all the buildup and excitement with having friends and family arriving for our big day," Miriam says. "But at the end of the day we just wanted to say our I do's and be husband and wife, so that was the best part of the day."
3. Socially Distant Weddings During the Coronavirus Pandemic
Some couples have chosen to adjust their wedding plans and postpone the big date in light of the coronavirus pandemic. But if you and your partner have decided to proceed anyway with some type of in-person ceremony, it's important to follow the safety protocols and social distancing guidelines in your area.
Luz and Jennifer Escobar-Sigman had originally planned to have an intimate courthouse wedding ceremony in San Francisco and then a reception for family and friends at a separate venue.
But then the pandemic hit, and the couple faced a difficult time finding an open courthouse that would issue a marriage license to them. Their local courthouse was closed, and nearby counties would only issue marriage licenses to residents. They checked South Lake Tahoe, California, and Reno, Nevada, but the only minister they could find was attached to a church that wouldn't marry same-sex couples.
Luz and Jennifer continued to search because they wanted to keep their original wedding date of May 8, which they had engraved into their wedding bands back in January.
"In this time where everything is so unpredictable and uncontrollable, this could be something that we could still have, and have it be special and a part of our original plan," Luz says. "It was just really important for us to try to keep the date."
Finally, Luz and Jennifer found out that Las Vegas was offering marriage licenses and drive-thru wedding ceremonies. The Clark County Marriage License Bureau had just reopened, and the drive-thru option seemed to be among the safest ways to get married during the pandemic since couples can remain in their cars.
However, even though Luz and Jennifer had signed up for a drive-thru wedding, they were offered an upgrade to a suite and ceremony inside a chapel. Jennifer's sister and niece live in Las Vegas and were able to stand in as the photographers and flower girl while wearing masks. The chapel where Luz and Jennifer got married practiced other safety protocols as well, including social distancing, issuing disposable pens, and sanitizing surfaces between each couple.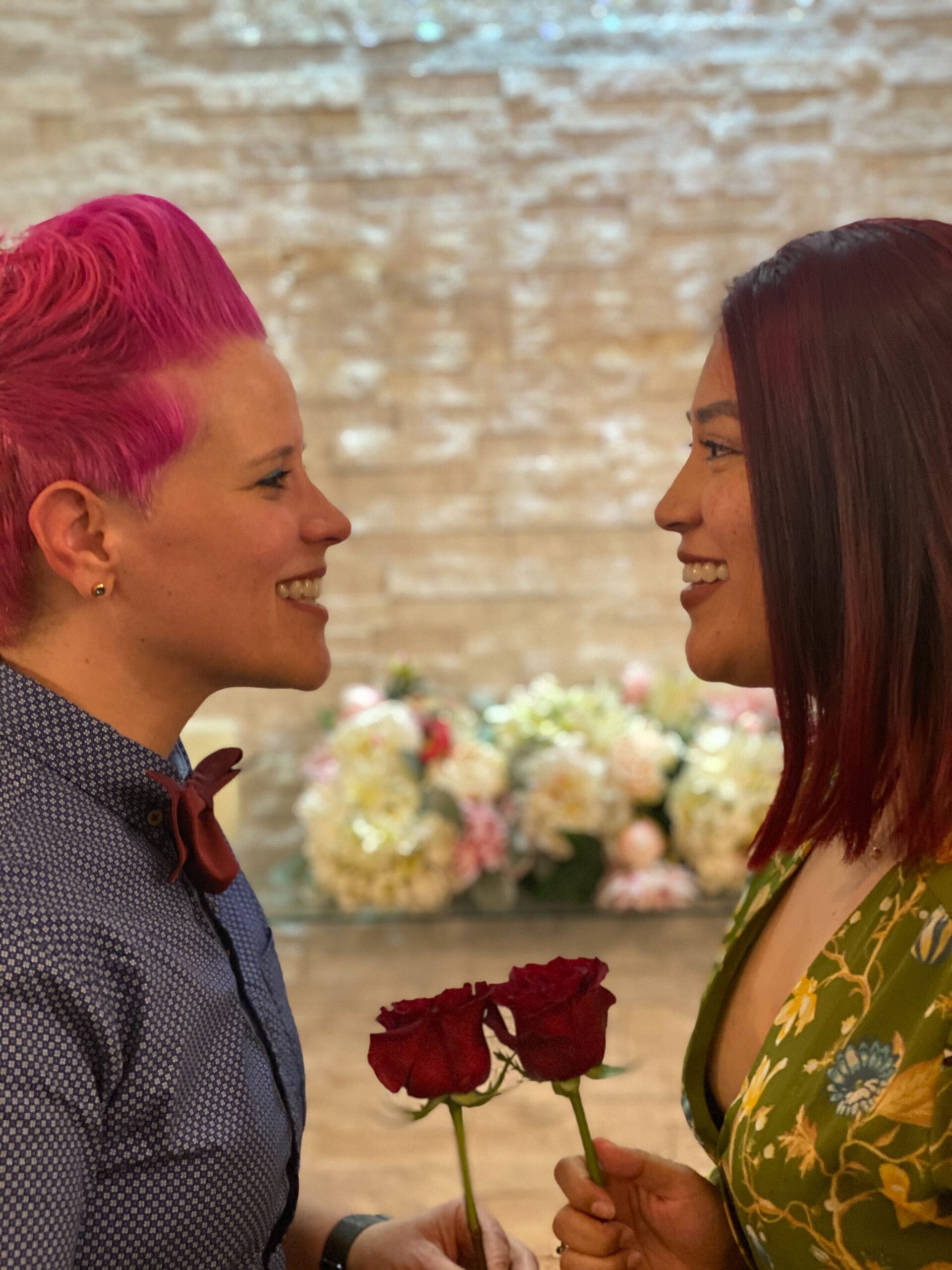 The couple still hopes to proceed with a reception in late October, pending future safety guidelines surrounding the public health crisis.
How much does a socially distant wedding cost?
Much like with a traditional wedding, costs for a socially distant wedding will vary depending on what you want. In some cases, a scaled-down socially distant wedding could help you save money.
Luz says it only cost her and Jennifer a few hundred dollars to travel to Las Vegas, and they spent a few hundred more on the ceremony plus about $70 for their marriage license. Although Luz and Jennifer are still waiting for the right agencies to reopen so they can complete their legal name changes, Luz estimates that their entire Vegas wedding cost under $500. As a bonus, they were able to get refunds on the venues that they had originally booked.
How to make a socially distant wedding special
While Jennifer's wedding dress was ready by May 8, their original date, Luz's suit got held up at the tailor's due to the coronavirus lockdown.
"We each just grabbed from what we had in the closet," Luz says. "We just threw something together and it actually worked out perfectly."
Luz and Jennifer had customized earrings for each other — which was part of the original plan — that they wore for the ceremony as their "something new." Jennifer's sister also lent them bracelets that served as their "something borrowed." Finally, the couple had blue Converse sneakers that they used as their "something blue."
While Luz and Jennifer intended at first to wed in front of their loved ones, they opted out of holding a virtual wedding because they felt it might take away from why they wanted to get married in the first place.
"We originally did want to have family and friends, but really, this was just about us," Luz says.
With a limited guest list, a socially distant wedding allows you to focus on the moment and celebrate your big day in ways that are special to only you and your partner.
The Bottom Line
The coronavirus pandemic has changed everyday life, but it doesn't have to stop you from marrying the love of your life. While new safety protocols must be considered, you can celebrate in a way that still feels special to you and your partner, whether you choose a courthouse wedding, a virtual wedding, or a socially distant wedding. It may not look like a conventional wedding, but it'll certainly be an unforgettable day for you and your guests.