Sure, Instagram has taught us to be jealous of those who can afford fancy overseas holidays and wishing we could do the same. It's worse for those who aren't travel hackers – how on earth can you experience luxury without totally blowing the budget?
Enter the luxury staycation.
Instead of spending gobs of money traveling to and from an exciting destination, consider using that money on a nice hotel in your area and splurging on things you wouldn't normally do. In fact, there's a way to recreate a luxury holiday without leaving your own home.
Intrigued? Well then, let's get started.  With this article you will learn the basics of a luxury staycation:
What Are Some Luxury Staycation Ideas?
How Much Will You Save With a Luxury Staycation?
What Is a Luxury Staycation?
A luxury staycation is essentially a vacation in your own city, but it's not as cheap or frugal as a regular staycation. Instead, you'd opt for things like spa services, staying at five-star hotels, and dining at nice restaurants.
It's a win-win situation because you get to save money while splurging on some of the finer things in life. If you hate going through airport security, long lines at the check-in counter, beating jet lag, or praying your kids don't throw their legendary tantrums at the gas station, staycations are for you. Plus, you can avoid a lot of crowds if you wander around your city on a weekday on your time off (assuming you avoid rush hour and don't live in a busy urban area).
Have pets? You don't need to worry about finding a sitter. In fact, you could argue that planning a staycation is easier because you don't need to do extra research on a new destination.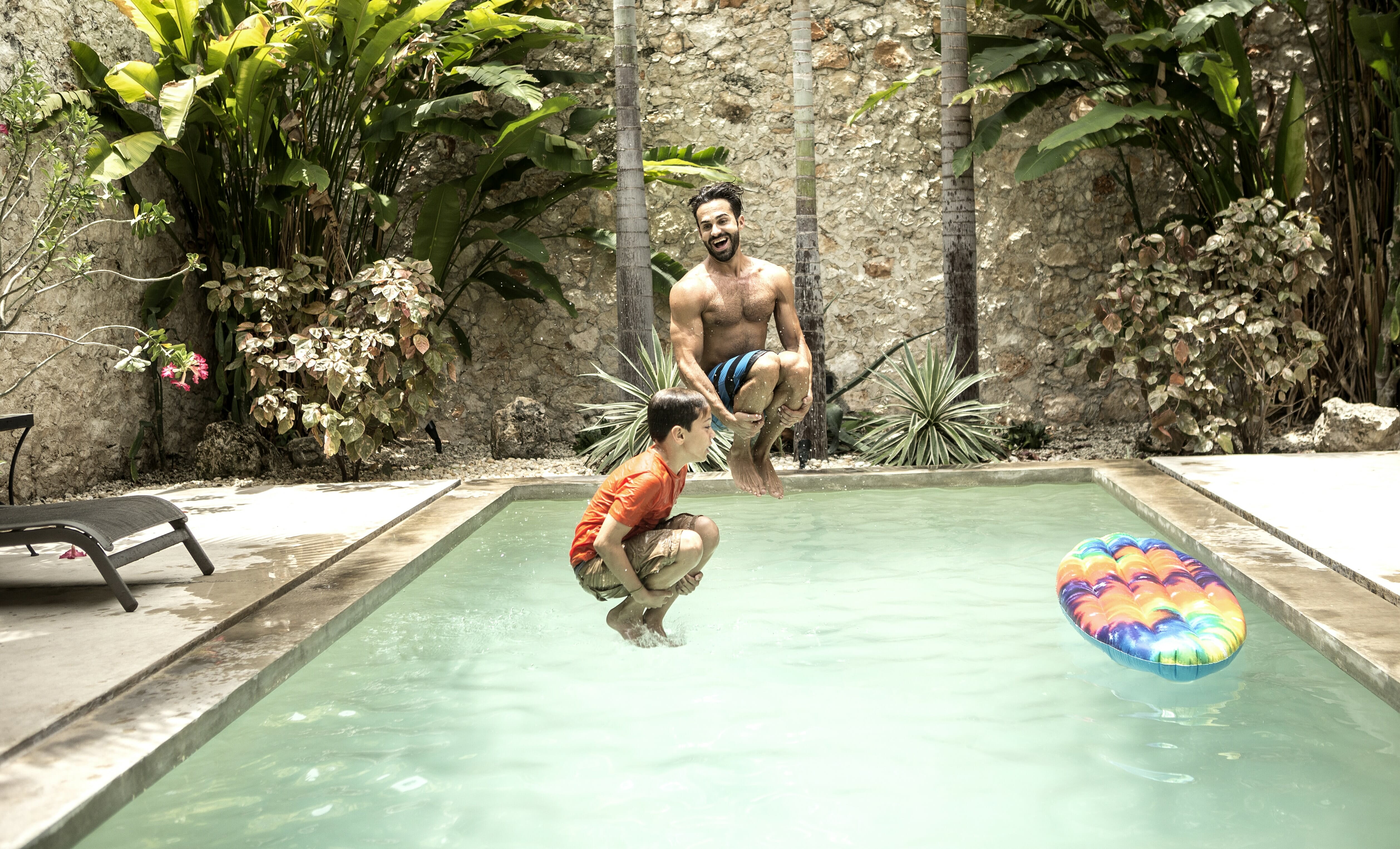 I'm Convinced. Give Me Some Luxury Staycation Ideas.
Sure! Pick and choose from the following ideas.
Stay In a Nice Hotel
The most obvious one is to stay at a nice hotel close to your home. You don't have to go all out and get a five-star hotel, as long as you spend less than you would on a flight, you're saving.
Besides, you can still save money if you stay in the hotel the whole time, order takeout, and partake in their spa services. Often, hotels include breakfast, so you'll save money on some of your meals. Even if you do eat out, you already know where the best deals are, so you can save more cash there.
Aside from hotels, consider listings on AirBnb. Some cities offer some pretty unique experiences, like staying in a sailboat, tree house, or a potato (seriously). These places can offer the same amenities as hotels such as swimming pools, gyms, private beaches, and kitchens.
Stay Home and Live Like a King
Even if you decide to stay in your own home, you can turn your living quarters into a five-star experience. While you can't add in things like a swimming pool, sauna, or all-you-can-eat breakfast buffets, there are products and services you can purchase to pamper yourself.
Why not pretend to be one of the people you see on TV and get a bunch of hired help and surround yourself with beautiful items?
Some quick suggestions:
Hire a personal chef.

You can hire someone to help you meal plan, do grocery shopping, and cook meals for you during your luxury staycation. This person can even work around the picky eaters in your family. Websites like

Hire a Chef

,

Personal Chef to Go,

and even

Care.com

help you hire someone.

Hire a cleaner.

Why should you have to clean your own home — you're on a staycation!

Hire a home stager or decorator. Have this person come in and do simple things like rearrange your furniture or help you rent items in your home to transform it for a week.

Purchase high quality bed sheets.

Go ahead, buy some Egyptian cotton. You may be able to luck out and find it at your local discount store or find a sale online. It's a vacation souvenir you'll actually use afterward. 
Think about not needing to leave your home and feeling like you're on vacation. You feel like you're in a whole new place; no need to do chores and you have all day to do as you please.
Hire a Local Tour Guide
Even if you've explored your own town, hiring a local tour guide can help you uncover some gems. Explore where you live with a different perspective and maybe learn some history along the way. Heck, take public transportation to feel even more like a tourist!
You can find a  guide on websites such as Tour by Locals or even the experiences section on AirBnb. Check which tours hit places you've already visited so you don't waste your time.
Rather explore on your own? Look up self-guided walking tours or make a list of places and activities you've been meaning to do but haven't had the time.
How Much Will I Save?
Keep in mind the following are approximate calculations. Actual numbers will be different depending on where you live. That said, let's calculate the cost of a typical international vacation for two people for five days:
Airfare (from Newark to London on economy class): $1000

Hotel for five days (4- to 5-star): $800

Transportation (getting around, airport transfers): $100

Local attractions: $200

Food: $500

Shopping (clothes, shoes, souvenirs): $200
TOTAL: $2800
That isn't exactly cheap and the price can go much higher depending on what you end up doing on a vacation. Instead, you can essentially eliminate airfare and maybe souvenirs from that list, bringing the cost way down.
Let's assume the price for hotels and tourist attractions are the same. Here's what it could cost you for a luxury staycation:
Hotel for five days: $800

Transportation: $30

Local attractions: $200

Food: $300

Spa services: $200
TOTAL: $1530
If you stay home, your budget can be considerably less:
Cleaner: $75

Bedsheets: $100

Transportation: $30

Personal Chef/Ordering takeout: $200 to $360

Local attractions: $200

Home stager: $300
TOTAL: $905
The Bottom Line
As you can see, it is significantly cheaper than a traditional vacation, depending on where you stay and the types of activities you do.  To save further, look at cash back rewards cards such as the U.S. Bank Cash+™ Visa Signature® Card where you can earn up to $550 cash back in the first year.
If all you want to do is have a few days off to kick back and relax with family, a luxury staycation is a perfect solution. There's far less planning, and you get to enjoy a break without unnecessary travel stress. Try it out, you may discover you're a staycation natural.